CSTS Philadelphia
The Delaware Valley Brigade of the Pennsylvania Browncoats is pleased to announce that we will be hosting a Can't Stop the Serenity event for Philadelphia in 2018!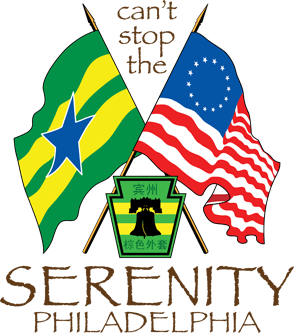 We hope you will join us for a screening of Joss Whedon's cult favorite, Serenity, based on his much loved, though short-lived television series, Firefly on Sunday, September 23, from 2:00pm to 6:00pm, at:
The Rotunda
4014 Walnut St.
Philadelphia, PA 19104
Before we show the movie, we'll have fun games, light refreshments, music, and a raffle auction*, featuring many wonderful prizes donated by our generous sponsors. (Bring cash if you'd like to participate!). "Verse" inspired garb/costumes are highly encouraged!
Serenity is rated PG-13, Children attending must be accompanied by a parent or guardian.
Advance Tickets* are $10 each (plus service fees) available on EventBrite.
Remaining tickets* will be available at the door for $15 each.
*All proceeds from CSTS Philly events benefit Equality Now.


T-shirts will be available this CSTS season for order directly through Represent.
Can't Stop the Serenity
Can't Stop the Serenity (CSTS) is a unique opportunity to indulge your geeky side while doing some good! Since 2006, fans have organized screenings of Joss Whedon's Serenity to raise funds and awareness to support Equality Now in their work for the protection and promotion of the human rights of women around the world. So far, we've raised over $1,249,000 and raise more every year. Join us as we aim to misbehave for a good cause!
Represent
Represent is a t-shirt printing company specializing in charity drives. They've been the powerful machinery behind several high profile celebrity fundraisers, including efforts by Nathan Fillion, Jewel Staite, Felicia Day, and many others.
The t-shirt campaigns will re-launch automatically every three weeks. At the end of each campaign, orders will be printed and shipped, and a new campaign will begin. U.S. customers can anticipate receiving their merchandise approximately three weeks after the end of a campaign. However, please be advised that t-shirts may not arrive for up to 8 weeks after your order date, so please order well in advance if you wish to wear your shirt at the September 23rd event! (If you don't see this until after our event, orders may be placed throughout the CSTS season until November.)
The Pennsylvania Browncoats
The Pennsylvania Browncoats plan social events throughout the year, from game nights to bowling, from movie nights to camping. We also plan charity events, such as screenings of Dr. Horrible's Sing-Along Blog and Serenity, as part of the global Can't Stop The Serenity events. Join us on Facebook and/or on Yahoo!Groups.