The Delaware Valley Brigade of the Pennsylvania Browncoats is pleased to announce that we will be hosting a Can't Stop the Serenity event for Philadelphia in 2019!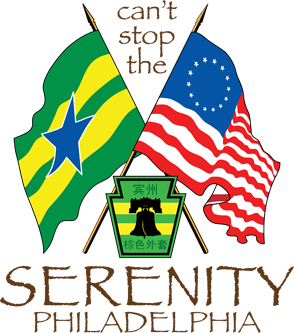 We hope you will join us for a screening of Joss Whedon's cult favorite, Serenity, based on his much loved, though short-lived television series, Firefly on Saturday, June 22 (Raindate 6/29), from 6:00pm to 11:00pm, at:
Firepit Cinema
c/o Chris Allan
2715 Line Lexington Road
Hatfield, PA 19440
Before we show the movie, we'll have fun games, light refreshments, LIVE music by Sean Faust, raffles, and an auction*, featuring many wonderful prizes donated by our generous sponsors. (Bring cashy money if you'd like to participate!). "Verse" inspired garb/costumes are highly encouraged!
Serenity is rated PG-13, Children attending must be accompanied by a parent or guardian.
(more…)